Homeopathy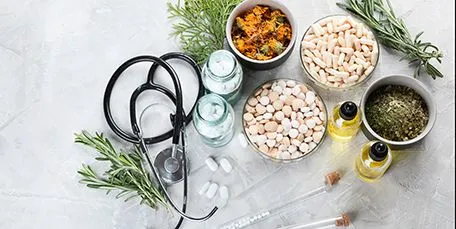 Overview:
Homeopathy is a form of functional medicine that originated in Europe over two hundred years ago. Founded by German physician Samuel Hahnemann, homeopathic remedies use medicines derived from plants, minerals, or animals, and are offered in the lowest concentrations with the belief that "like cures like." Here's what you should know about homeopathy and its benefits in increasing your overall wellness.
What is Homeopathy?
Homeopathy is a form of functional medicine developed in Europe over two centuries ago by German physician Samuel Hahnemann. Homeopathic medicines, which are often called homeopathic remedies, are given to patients with various illnesses with the belief that:
The lowest dose of medication can have the greatest effects on curing ailments.
A disease can be cured by medicine, which, if given to a healthy individual, would produce similar symptoms of said disease but to a milder degree. This is what Hahnemann termed as "like cures like"
If a medicine causes a particular symptom in healthy patients, that medicine can then be diluted and used as treatment in patients experiencing that symptom. Homeopathic remedies are usually derived from plants—arnica, belladonna, stinging nettle—minerals or animals, and are available as dissolvable tablets, gels, creams, ointments, and drops.
What Are the Benefits of Homeopathy?
Research and meta-analysis have found that regular use of homeopathic remedies has helped patients improve their respiratory function. Homeopathic remedies can also be used to treat a variety of health problems, including:
Asthma
Depression
Allergic rhinitis
Migraines and headaches
Arthritis
Intestinal colic in infants
Treatment is highly individualized based on your illness and health status. It's common for homeopathic doctors to prescribe two completely different treatments for two patients dealing with the same disease.
What to Expect During a Homeopathy Appointment
If you've never been to a homeopathic appointment before, you might be wondering what to expect during your initial session. Cary Disc Center will ask you a series of comprehensive questions regarding your current health status, including whether or not you're experiencing chronic pain or other relevant conditions. This evaluation may be up to three hours long as it allows your doctor to get a clear understanding of your symptoms and illness.
From there, the homeopath will cross-reference your symptoms in a database known as the Materia Medica, which offers over 5,000 remedies and their characteristic symptoms. The recommendation may be immediate, or if it's a more complex illness, you may be called in for a second appointment, including several different remedies for a single illness. Treatment can either be based on one single dose or a series of doses over a period of time.
Effective homeopathic remedies require an accurate evaluation and prompt care using safe, effective homeopathic diagnosis.
For more information about homeopathy contact Cary Disc Center at (847) 639-0010.
---
Source: