Phytotherapy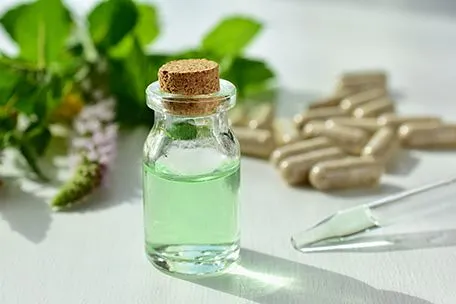 Overview:
Used for thousands of years, phytotherapy is a form of functional medicine that uses plants and other botanicals in the treatment of diseases. A physiotherapy appointment with us might just be what you need to achieve overall wellness. Here's what you should know about physiotherapy and its multiple benefits.
What is Phytotherapy?
Phytotherapy is a form of functional medicine that makes use of herbal medicines in the treatment of illness and disease. Herbal medicines have been used for centuries to treat various diseases and are typically made from entire plants or specific parts of a plant. Herbal medicines and herbal supplements—those that are ingested internally—can either be sold over-the-counter or require a doctor's prescription. They can be:
Chopped or dried and consumed as herbal teas
Gels, creams, and lotions that are applied topically
Pills, powders, or tinctures that are ingested
Phytotherapy can also be used in conjecture with naturopathy in targeting the underlying cause of a disease that you may be experiencing.
What Are the Benefits of Phytotherapy?
Recent studies indicate that plants and their extracts exhibit analgesic, antimicrobial, cytotoxic, antioxidant, and anti-inflammatory properties, which can be beneficial in the management and treatment of disease. Phytotherapy can be used to treat:
Chronic pain, as in the case of knee osteoarthritis
High blood pressure
Digestive functions, such as irritable bowel syndrome
PMS symptoms and menopause
Immunity
Stress, anxiety, and depression
Respiratory infections, colds, and sore throats
What to Expect During a Phytotherapy Session
If you've never had a physiotherapy session before, you might be wondering what to expect during your first appointment. A naturopath physician or other trained medical professional at Cary Disc Center will ask you a series of questions to determine your current well-being status and the underlying causes of illness that you may be experiencing. From there, your physician will evaluate your answers and derive a method of treatment that may use one or several forms of herbal medicines. A follow-up appointment is usually necessary after a few weeks to check the efficacy of the medicines recommended, and if necessary, alter the course of treatment.
For more information about phytotherapy contact Cary Disc Center at (847) 639-0010.