Hypnosis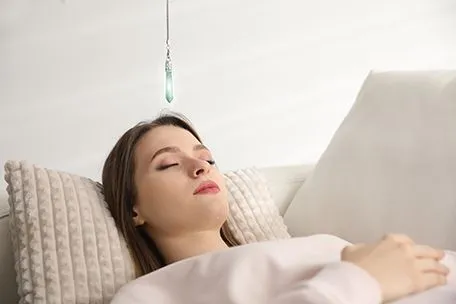 Overview:
Have you been experiencing stress and feeling overly anxious? A hypnotherapy session with us might be just what you need to improve your mental well-being. Here's what you should know about hypnosis and its benefits for functional medicine.
What is Hypnosis?
Hypnosis is a psychotherapeutic practice where a patient is able to achieve a high state of concentration and detach from their present surroundings. It is a non-invasive and drug-free form of mental health therapy that can help you improve your mood, emotions, and overall mental wellness.
A hypnotherapist is a trained provider used to perform different hypnotic techniques that help you reduce stress, become self-aware, and increase your overall mental well-being. In a clinical setting, hypnosis is used to teach you how to enter into a deep state of relaxation in order to address issues affecting your mental, physical, and emotional wellness.
What Are the Benefits of Hypnosis?
Commonly used as a mental health treatment, hypnosis is a relaxing, non-invasive practice that offers multiple benefits. It can:
Reduce stress and anxiety
Increase cognitive function
Improve behavior and mood
Alleviate pain
Decrease the incidence of migraine and chronic headaches
Can help you break bad habits
According to several studies, the use of hypnosis in patients undergoing surgery has shown to not only reduce pain but often results in less anxiety as well as a reduction in the consumption of sedatives and medicines pre-and post-surgery.
What to Expect During a Hypnosis Session
If you've never been to a hypnotherapy session before, you might be wondering what to expect during your first appointment. A trained hypnotherapist at Cary Disc Center will begin by asking you a series of health questions to determine your overall wellness levels. Most sessions can last anywhere from 30 minutes to an hour in length. Your hypnotherapist will typically recommend multiple appointments over the course of several weeks before you can start to see a difference in your well-being.
For more information about hypnosis contact Cary Disc Center at (847) 639-0010.