Allergies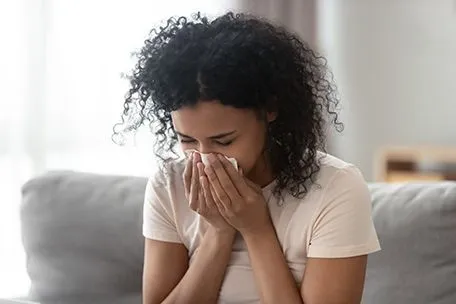 Overview:
Have you recently experienced seasonal allergies such as a runny nose or itchiness? Or have you been a chronic allergy patient and are ready to get back to feeling better? An integrative approach with us might just be what you need for overall wellness. Here's what you should know about integrative treatments for allergies.
What are Allergies?
Allergies are symptoms that occur as a response to your immune system overreacting to substances known as allergens that are harmless in other people. Allergic reactions can be mild in nature or severe and life-threatening, depending on your body's immune response to the allergen in question.
Patients with allergies experience the following symptoms:
sneezing
itchiness
runny nose
watery eyes
skin rashes
swelling
asthma and other breathing problems
gastrointestinal problems
What Are the Benefits of Integrative Approaches to Manage Allergies?
(3)(4) There are multiple benefits to undergoing integrative treatments to manage your allergies. Both functional and integrative medicine does not involve narcotics and is incredibly non-invasive. Studies have shown that regular integrative treatments lead to an improved quality of life and a decrease in nasal and allergy symptoms.
Some common therapies that help reduce allergy symptoms include:
acupuncture
herbal supplements
deep breathing therapy
nasal irrigation
detoxification diets
homeopathy
chiropractic adjustments
yoga and other mind-body therapies
What to Expect During an Integrative Allergy Treatment Session
If you've never had an integrative allergy treatment session before, you might be wondering what to expect during your first appointment. A certified practitioner at Cary Disc Center will begin by asking you a comprehensive set of questions to determine your current health, including your symptoms and emotional and mental well-being. From there, your doctor may conduct an allergy test—skin, intradermal, challenge, or blood test—to identify your allergy. Your treatment plan will depend on your results and is individual from one patient to the next.
Effective allergy treatments require an accurate evaluation and prompt care using safe, effective integrative techniques.
For more information about integrative approaches for managing allergies, contact Cary Disc Center at (847) 639-0010.